13 mai 2014
Ca y est les jeux sont faits ! Avec les upfronts, nous connaissons désormais les dernières séries qui ont eu la chance d'être renouvelées et celles qui malheureusement ont été annulées par leur chaîne.
Découvrez maintenant le récapitulatif du sort de vos séries pour la rentrée 2014-2015 :
Networks


Renouvelées

Annulées

Nouveautés

En attente


Arrow

Beauty and the Beast

Hart of Dixie

Reign

The 100

Supernatural

The Originals

The Vampire Diaries

Nikita

Star-Crossed

The Carrie Diaries

The Tomorrow People

iZombie

Jane the Virgin

The Flash (Spin-off d'Arrow)

The Messengers

Castle

Grey's Anatomy

Last Man Standing

Marvel's Agents of S.H.I.E.L.D

Mistresses

Modern Family

Motive

Nashville

Once Upon a Time

Resurrection

Revenge

Rookie Blue

Scandal

Shark Tank

The Goldbergs

The Middle

Back in the Game

Betrayal

Killer Women

Lucky 7

Mind Games

Mixology

Once Upon a Time in Wonderland

Suburgatory

Super Fun Night

The Assets

The Neighbors

Trophy Wife

Agent Carter

American Crime

Black-ish

Cristela

Fresh off The Boat

Forever

Galavant

How to Get Away With Murder

Manhattan Love Story

Secrets and Lies

Selfie

The Club

The Whispers

2 Broke Girls

Blue Bloods

Elementary

Esprits criminels

Hawaii Five-0

Les Experts

Mentalist

Mike & Molly

Mon Oncle Charlie

Mom

NCIS

NCIS : Los Angeles

Person of Interest

The Big Bang Theory

The Good Wife

The Millers

Under the Dome

Undercover Boss

Unforgettable

Bad Teacher

Friends With Better Lives

Hostages

How I Met Your Mother

Intelligence

The Crazy Ones

We Are Men

CSI : Cyber

Madam Secretary

NCIS : New Orleans

Scorpions

The McCarthys

The Odd Couple

Reckless

About a Boy

Chicago Fire

Chicago PD

Grimm

Hannibal

New York Unité Spéciale

Parks and Recreation

The Blacklist

Believe

Community

Crisis

Dracula

Growing Up Fisher

Ironside

Revolution

Sean Saves the World

Welcome to the Family

A to Z

Allegiance

Aquarius

Bad Judge

Constantine

Marry Me

The Mysteries of Laura

Odyssey

Stalker

State of Affairs

The Biggest Loser

The Night Shift

Parenthood

Undateable

Bob's Burgers

Bones

Brooklyn Nine-Nine

Family Guy

Glee (6ème et dernière saison)

New Girl

Sleepy Hollow

The Following

The Mindy Project

The Simpsons

Almost Human

Dads

Enlisted

Raising Hope

Rake

Surviving Jack

Bodertown

Empire

Gotham

Hieroglyph

Mulaney

Red Band Society

Gang Related

Pretty Little Liars

Switched at Birth

Ravenswood

Drop Dead Diva

White Collar

Homeland
15 mars 2014
Tout d'abord, je m'excuse pour avoir été absente aussi longtemps mais me voici définitivement de retour.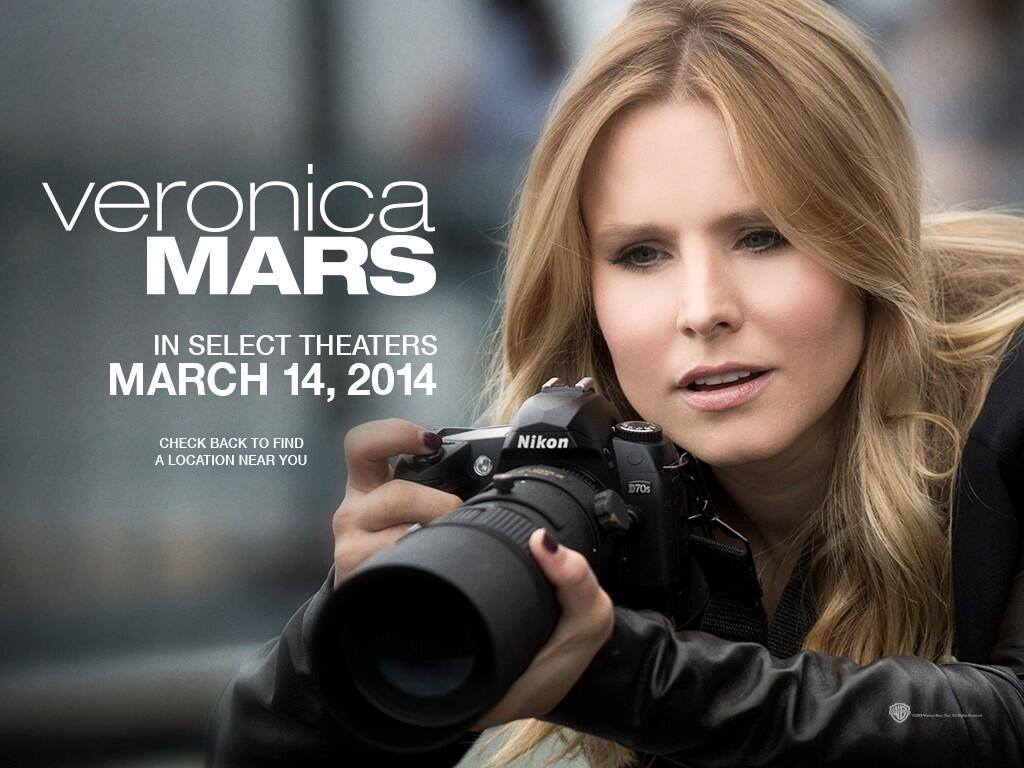 Et pour bien rattaquer, je vais vous parler du film Veronica Mars. On l'attendait depuis longtemps et ça y est, il est sorti !
Voici le lien en vostfr pour ceux qui ne l'ont toujours pas vu : Regarder le film
Synopsis :
L'histoire se déroule 9 ans après que Veronica ait quitté Neptune. Elle vient de terminer ses études de droit et cherche un premier job en tant qu'avocate à New-York. Avec un cursus parfait, elle est sur le point d'obtenir une place dans l'un des meilleurs cabinets de la ville. Elle vit désormais avec Piz qui est devenu animateur radio.
Suite au décès de Carrie Bishop désormais connue sous le nom de la célèbre chanteuse Bonnie deVille, Logan est accusé de meurtre et demande l'aide de Veronica pour l'innocenter. Elle décide de revenir à Neptune pour régler l'affaire.
Ne pas lire l'avis si vous n'avez pas encore vu le film, Spoilers !
Avis : ♥♥♥♥♥ (4,5/5)
Ce film est une belle réussite ! J'avais peur d'être déçue mais ce n'est pas le cas. La promesse est largement tenue.
Le premier point positif de ce film, c'est le retour de tous les personnages de la série. Il y a eu un très bel effort sur le cast. Des acteurs déjà bien pris par leurs séries respectives ont pu faire leur apparition pour le plus grand bonheur de tous.
Ensuite, nous avons enfin une vraie conclusion sur la série comme nous le souhaitions depuis des années. Que ce soit sur le métier de Veronica ou ses amours, tout est clair et c'est ce qu'on voulait. On retrouve ENFIN le couple Veronica/Logan et cette fois-ci c'est pour de bon. Yes, team Logan ;)
L'histoire tient debout et on retrouve tous les codes et petites références qui nous ont fait aimer la série : humour, drama, surprises, etc.
Le seul petit point négatif, c'est que Piz passe encore pour le pauvre gars, comme dans la saison 3. Mais personnellement, j'ai toujours été pour le couple Veronica/Logan donc cela ne me dérange pas plus que ça.
Qu'en avez-vous pensé ? Donnez une note :)